Hello! It's time for another book tag! I wasn't tagged for this one I just wanted to do a book tag today. So, I looked online and went in search for bookish tags. I stumbled across this gem and I am so excited. Greek Mythology is one of my favorite topics and I love it even more in books. Some books I would use for multiple answers but for the sake of the tag, every answer will be different. I made some changes to any thing that said 2016 to make it relevant for this year. So let me quit rambling and get on with it.
I read The Wrath & The Dawn in two days. This book has surpassed all other books for me and nothing compares to it. Khalid and Shazi are my favorite male & female characters ever. The story is beautiful and I will never get enough of it. It never fails to make me smile and the romance makes me swoon every time. The bravery and boldness in both Khalid & Shazi are admirable and what I love about them both. My honorable mention is A Darker Shade of Magic trilogy it is my other favorite.
Testimony is a story I read many years ago and till this day I will never forget it. The book really resonated with me and left me in tears. It follows the story of the men, women, teenagers, and parents affected by a sex scandal at a New England boarding school. Testimony is the ultimate "actions have consequences" tale. It was an intense read that reminded me of a thriller. So much happens in this story and Shreve handles it with such care. It is such a sad story yet so beautifully told.
Madeline Roux wrote such a fantástica story with the Asylum trilogy. It was filled with so many creepy pictures from real Asylums. The plot twists were insane! I loved the characters and their bravery but their realness to these intense scary situations. This was a real page turner from the suspense, to the chilling photographs, and even the front cover that originally drew me in. The story stands on the fence between insanity and genius and makes you question everything you know.
Ren and Kelsey from the Tiger's Curse series are one of the cutest couples I had the pleasure of reading about. Ren is chivalry in its finest form. He treats Kelsey like the most precious jewel even asking her if he was allowed to kiss her *cue the tears*. Though they go through an utterly annoying love triangle problem I had no doubt my ship would rise and not sink. Every scene with them was a stealer their romance is one for the history books. They're literally soulmates.
A Darker Shade of Magic could've gone to a lot of these but I chose this one because Miss Schwab builds the PERFECT world. I pictured everything about this world she created in such immaculate detail with her words. It felt like I was on this wild adventure with Kell and everyone doing everything they did. What they touched I touched, what they smelled I smelled, what they saw I saw. This book is tied as my favorite & I am so thankful for this gem it brings tears to my eyes.
I have not had the pleasure of reading Flame in the Mist but Renee Ahdieh is 1/4 of my favorite authors so I know it will be amazing. As I was looking at all the books released this year that I wanted this cover stood out most for me. The use of type with the imagery is gorgeous. The color choices were perfect because they stand out so much especially the contrast with the dark black against the flaming bird. It is such a gorgeous cover and can't wait till' it's in my collection.
Schwab is my favorite author & she did it again with Vicious. This story is literally what its title says. There are so many deaths and they are not glossed over. Victora describes them as she does everything in her stories and I feel as if I witnessed murders. But, it is not in a gross way so it isn't hard to stomach. I love this story because of how it delves deep into the mind of mad men and doesn't hide their evil nature. It really has you question your own mind if this was you.
For this one, I am choosing two characters from Amour Amour. One is Nikolai Kotova and the other is John Ruiz. Nikolai is confident, charming, and completely swoon worthy from his first meeting with main character Thora till the end of the book. John is a pessimistic, sarcastic, entitled character whom I adore and relate to on a personal level. That one scene where he has his arms around Timofei at the club bar is just *swoons* please let me lie down for three thousand years.
Inej Ghafa from Six of Crows is one of the baddest female fictional characters. She is so dope that she is the right-hand man to her boss and not the other guys in her gang. She is someone I would love to be friends with and not have on my bad side since she knows everyone's secrets. I love how strong and tough she is. My favorite thing about Inej is her quietness & how she won't break her morals for anything. Those two things I relate to so much and I see myself in her in that aspect.
So, pay attention to this lol City of Bones was great then City of Ashes bored me to the point I almost didn't finish the series. But City of Glass was the sequel that pushed me through to the next book. This series has been up and down for me but this book redeemed my faith that it could finish out strong. The whole incest concept was finally gone, the boring relationship of Clary & Simon was gone, and I got more Malec scenes. The book was just miles ahead of the previous.
Beauty & the Beast is my favorite movie of all time so of course Beastly was going to make it on this list at some point. It truly has the best message. Beastly is a story that tells us not to judge someone based on their appearance, but rather what they have on the inside. Looks do not determine everything and love goes deeper than skin. As said in the story "Those who do not know how to see the precious things in life will never be happy." I for one love to be happy.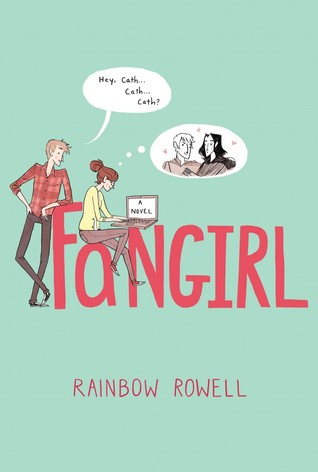 I have not read a book that was relatable in any way. I sat long and hard, I stared at my book shelves, I searched the internet, and nothing. Just nothing. I am not into "relatable" books BUT, for this tag, I did come across a book in my TBR that might qualify. Fangirl is my choice because it relates to my younger self. I use to be a big part of "stan" twitter, read the fanfictions, wrote fanfictions, even had the manips. So, I think fangirl would've been a very relatable book for young Kathryn.
Rick Riordan has created the world I want to visit with the Percy Jackson Series, The Heroes of Olympus Series, & Trials of Apollo. Camp Half Blood and all its attendees seem like the best party. The characters are brave, witty, smart, hilarious, caring, and loving. The camp and all its adventures are like a wild ride that I want to take part in. Riordan is a favorite author of mine simply because he is a fantastic action and comedy writer and creates amazing bookish settings to go with plot.
I AM SO EXCITED!!!!!! Michelle is my final author out of my 4 (I mentioned the other 3.) When I saw her posts on Instagram & Twitter I literally screamed. The Mara Dyer trilogy is in my top favorite series of all time and I love a story in a males perspective. I always wanted to know more about Noah's mind and now I get a whole trilogy on just that. CUE THE TEARS!!! Also, let us discuss that beautiful cover because Michelle just gets it right every time. I CAN NOT WAIT FOR THIS GEM!!! PS I meant 2017 release lol
---
I will be tagging:
Well, that was fun to do and I hope it is fun for you to read! If I didn't tag you but you want to do it please do I would love to see other bloggers responses. Did we have any similar answers? What would yours be?